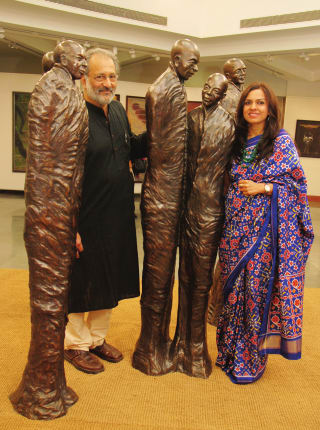 In a world that is damaged by disease, riven by greed and destroyed by hatred, what place does beauty occupy?
This is a question that has occupied the minds of women and men for a long time. Shakti Maira pondered about this conundrum and made it central to a lot of his work. When he passed away in May this year, he left behind memories of many meetings that featured discussions about what are often called, universal issues – themes to do with life and afterlife, craft and art, form and content.
As a versatile artist, Shakti was adept at a range of media that included painting, printing and of course, sculpture. We had a spirited exchange of ideas about how art could come up with images that simultaneously stood for inner questioning, strength and peace.
In response, he developed a series of sculptures featuring life-size monks that stood in a corner wrapped in deep and resonant silence. Interestingly, this was silence that spoke the language of inner power, of dignity and renunciation.
Today, these works flank the entrance to the grand JSW Centre in Mumbai – I often experience a sense of deep tranquility as I see them. Here are these ethereal presences that talk of commitment to the path of truth, of an honest inquiry into the unknown. They look solid, self-contained and sturdy but are also vulnerable and gentle.
As I remember Shakti in these trying times, I recollect our animated conversations and his cheerful visage. Travel well, dear friend. The bhikshus accompany you on all your journeys. They guide us deep into ourselves; they lead us into the worlds beyond. They are our guardians of grace.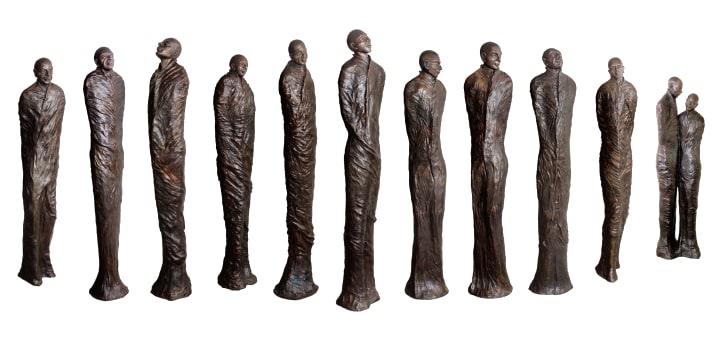 Shakti Maira. The Sangha. Sculpture. Set of 12. Bronze. 70" x 13". 2012.
Installed at the JSW Centre, BKC, Mumbai.